DFRobot micro:Maqueen Plus V2 (Ni MH Rechargeable Battery) with micro:Maqueen Mechanic
$189
Price in Singapore Dollars, including 8% GST of $14
Introduction
This product includes DFRobot micro:Maqueen Plus V2 and micro:Maqueen Mechanic (Forklift, Push, Beetle and Loader). micro:bit board and batteries are not included.
Maqueen Plus V2 is the latest version of the STEAM educational robot Maqueen Plus. Optimized with more expansion ports, larger capacity power supply and larger body, it is fully compatible with more peripheral components like HuskyLens AI camera, Maqueen Mechanic Kits, which makes it an accessible STEAM robot teaching tool for primary and secondary students. Maqueen Plus V2 is not only suitable for classroom teaching, but also can be used for after-school extended exercises and robot competitions.
Besides all the functions of Maqueen Lite, it offers richer and more flexible functions and stronger performance. Whether you have ever used Maqueen Series products or not, you'll find it very easy to get started.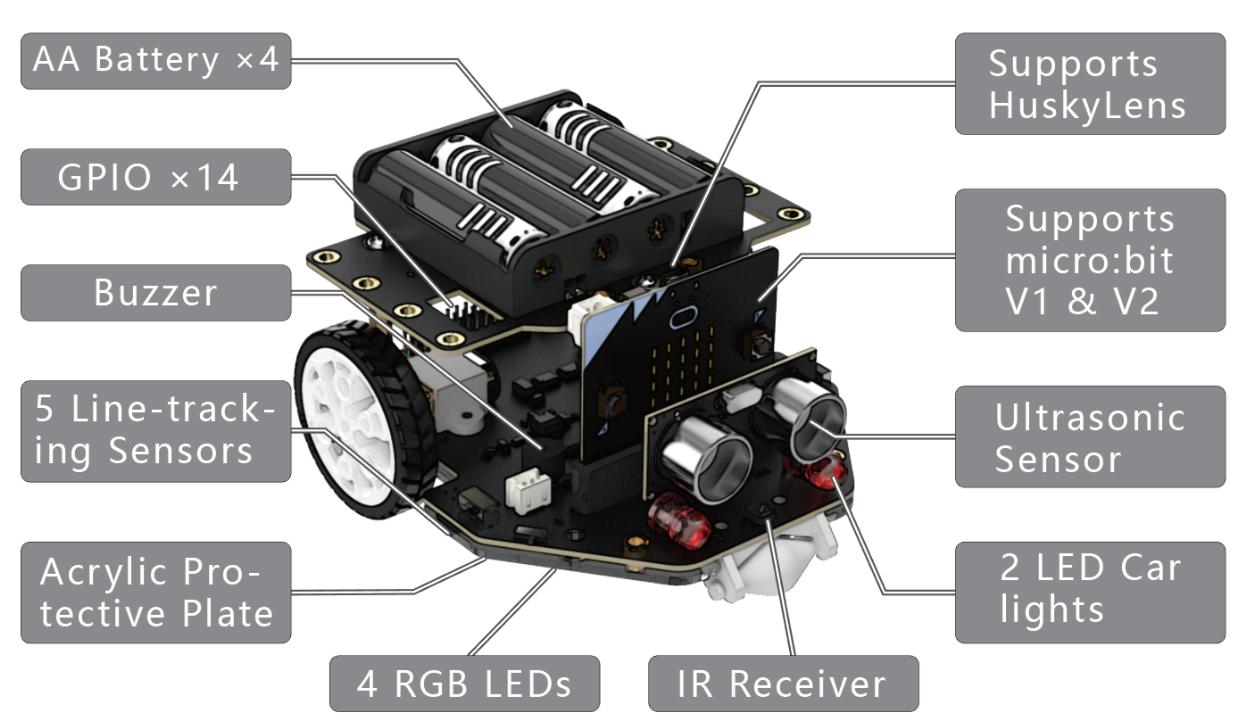 Features
No complex assembly, get started in minutes
More IO expansion ports: 3.3V IOx7, 5V IOx3, I2Cx3
5 line-tracking sensors, reliable and flexible
Larger body, more flexible expansion methods
Two versions to choose from: AA battery and 18650 battery

AA battery version supports 1.2V Ni MH battery or 1.5V alkaline battery
18650 battery version supports 3.7V 18650 battery

Works well with Huskylens AI Camera
Rich peripherals: IR receiver, LED car lights, RGB ambient lights, buzzer, ultrasonic sensor, etc.
Frosted acrylic protective plate at the bottom
Storage box with a deeper base to provide enough room for the assembled Maqueen Plus car
Specifications 
Power Supply: 1.5V AA alkaline battery x4 or 1.2V AA Ni-MH battery x4
Support micro:bit V1 and V2
N20 All-metal Gear Motor x2
Motor Reduction Ratio is 1:150
Motor Rated Rotation Speed: 133 rpm
Buzzer x1
5V IO (P0 P1 P2) x3
3.3V IO (P0 P1 P2 P8 P9 P12 P16) x7
3.3V I2C x2
5V I2C x1
Large Size LED Car Lights x2
RGB Ambient Lights x4
Line-tracking Sensor x5
Line-tracking Sensor with One-key Calibration
IR Receiver x1
SRO4 Ultrasonic Module x1
Dimension: 136mm×65mm/5.35×2.56"
Programming Platform: Mind+, MakeCode
MakeCode Library Address: https://github.com/DFRobot/pxt-DFRobot_MaqueenPlus_v20
Shipping List
micro:Maqueen Plus V2 (AA battery):
Maqueen Plus V2 (AA battery) Vehicle body x1

Note: the motor, vehicle wheel, support wheel, and battery panel have been installed before delivery)

H-SR04 Ultrasonic Sensor x1
Line-tracking Map x1
micro:Maqueen Mechanic:
Loader Servo Panel x1
Loader Bucket x1
Pan-tilt-zoomMount Plate x2
Trolley Plate x1
Ultrasonic MountHolder x1
Arm Servo Base x1
Arm Baseplate x1
Arm Linkage x3
Arm Plate x1
Servo Arm Linkage x1
Forklift Plate x1
Gripper Upper Arm x2
Gripper DrivenForearm x1
Gripper ServoForearm x1
Gripper Panel x1
M3*35mm Copper Bolt x2
M3*25mm Copper Bolt x2
M3*15mm Copper Bolt x6
M3*17mm Copper Bolt x3
9g servo x2
M2.5*5mm nut x12
M3*5mm nut x45
Installation Manual x1